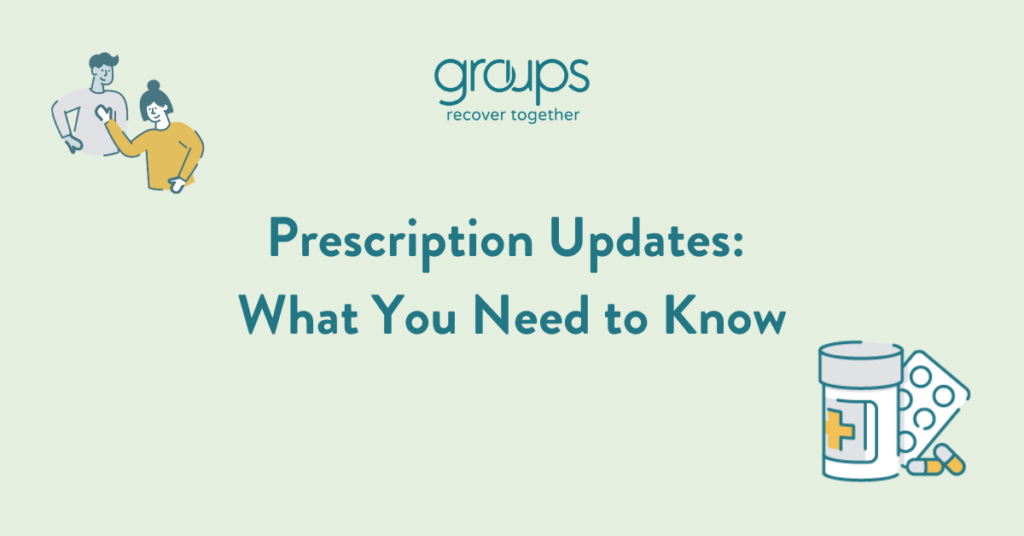 In the past, Groups has allowed for flexibility with prescriptions to help meet our members where they are. However, some of those flexibilities are being updated to comply with regulatory changes.
Starting June 5, 2023, when encountering prescription issues, Groups members can only request and fill prescriptions with a provider they've met within the past 12 months. (In group or individually.)

This does not change the process of getting your prescription. You will still get your prescription by attending your provider group. However, if you have an issue with your prescription outside of your provider group day, we may have to schedule an additional provider appointment.
We know this may be frustrating news. To make the process easier:
We've launched a Rapid Response Team so we can support you with any prescription issues as quickly as possible.
We're also launching Rx Assistance Groups to help members with problems with their pharmacies.
Members who've submitted UDS will get enough medication to keep them covered through the next provider group session.
Here are a few ways to prevent issues with your prescription:
Attend provider group sessions and submit your weekly UDS. Provider group sessions count as visits with your provider. If you're having trouble making it to sessions or submitting tests, reach out to your care team.
If you have to miss a provider group, work with your care team to reschedule it as soon as possible. This will help us refill your medication on time.
Choose your "home pharmacy." Make sure your preferred pharmacy accepts your insurance and is open when you need them to be so pickups run smoothly.
Follow your prescription pickup schedule. Because Groups providers aren't available on weekends, it's crucial that you are picking up your medication Monday through Friday. Issues that come up over the weekend will be addressed on Monday morning.
If you have any prescription issues, reach out to your Office Manager for support. Have questions about these changes? Your care team is here to help.
FAQs
What can I do to avoid issues with my prescription?
Make sure you attend your group and provider sessions and complete your weekly UDS. If you have barriers to attending or submitting your UDS, let your care team know so they can offer assistance
What do I do if I have prescription issues?
Contact your office care team to support you.
What do I do if I miss my provider group?
Work with your care team to reschedule your provider group as soon as possible to avoid disruptions in your prescription.  
Can I fill my prescription on the weekend?
If you have issues with your prescription, we won't be able to support you until Monday morning, so we recommend filling prescriptions during the week.
How do I establish care with a "Home Pharmacy?"
Having a pharmacy that you know and trust is an important part of your care plan. To establish a home pharmacy, confirm that your pharmacy of choice accepts your insurance and has hours that support your pick-up needs.
Who should I reach out to if I need have/have more questions?
Reach out to your care team; you also have client support center (CSC) team as a resource at (888) 560-1062.