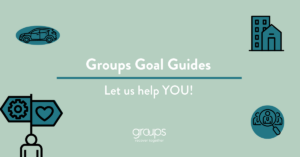 At Groups, we understand that recovery is about more than not using drugs. Our comprehensive care model supports the whole you — including other challenges in life that can sometimes get in the way of meeting short- and long-term goals.
To do that, we're here to help you and your family access what you need to survive, grow, and thrive. Our Groups Goals Guides round up nationwide resources to help you:
Get a job, grow a career, and open new doors for your new future.

Get safe and reliable transportation to the appointments you need along the way.

Get access to food programs.

Get consistent and reliable housing.
Explore our Groups Goal Guides for help right now:
Get whole-person recovery at Groups
Want support to stop using and meet other life goals? Treatment is covered by most insurance and Medicaid plans, so that everyone who wants help can get it. 
In addition to medication-assisted treatment and weekly group therapy with licensed counselors, Groups members have free access to life goal assistance for healthcare, housing, employment, education, social support, and whatever else they need to thrive. We've helped 4,500+ members with life goal assistance and counting.
Take the first step toward feeling and living the way you want to today. Call us any time of day or night to get started.